Oil Seal is a mechanical components that used to seal oil (oil is the most common transmission system liquid material), It`s isolated the lubricated components with other components, not let the lubricate oil leakage.
Oil Seal is generally divided into single-type and assembly type, assembly type is the skeleton and lip material can be free combination, generally used for special Oil Seals.
Oil seal can have different names, customary general rotary axis lip seal called oil seal, the static seal and dynamic seal (general reciprocating motion) was called seal parts.
The representative form of oil seal is TC type, is a double lips oil seal with a fully rubber coated and garter spring, generally speaking oil seal refers to TC skeleton oil seal, skeleton oil seal diagram see Figure: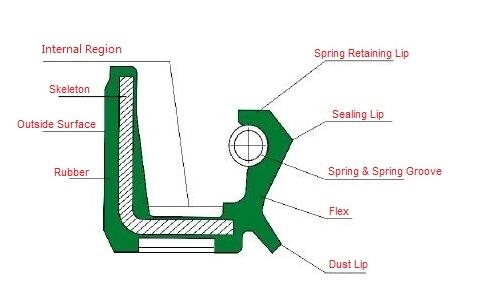 Oil seal common materials are: nitrile rubber, fluorine rubber, silicon rubber, acrylic rubber, polyurethane, PTFE and so on. When selecting oil seal material, consider the compatibility of material and working medium, the adaptability of operating temperature range, and the follow ability when the lip follow high-speed rotating shaft..
Generally when the oil seal is working ,its lips area temperature is higher 20-50℃ than working medium. Make sure you noted this when you select the oil seal products.
Oil seal operating range is related to its material:
NBR: -40 to 120℃,
ACM: -30~180℃
FPM: -25~300℃
Application:
Any operate case which have liquid lubricants inside and need to connect with outside also, the connect place is required of oil seals.
Engine: crankshaft - crankshaft front and rear oil seal, valve - valve oil seal (engine repair kit o-ring) (distributor oil seal, pump oil seal, balance shaft oil seal, oil pump seal ...);
Camshaft - camshaft oil seal ; Transmission: transmission front oil seal, transmission rear oil seal, transmission shift oil seal (transmission repair kits o-ring)
Sub actuator front oil seal, Sub actuator rear oil seal,
rear axle: axle oil seal
Rear Wheel Oil Seal
Front Wheel Oil Seal
Directional Oil Seal (Directional Machine Repair Kit o - ring)
Directional Booster Oil Seal (Front Axle Oil Seal).
Air compressor crankshaft oil seal